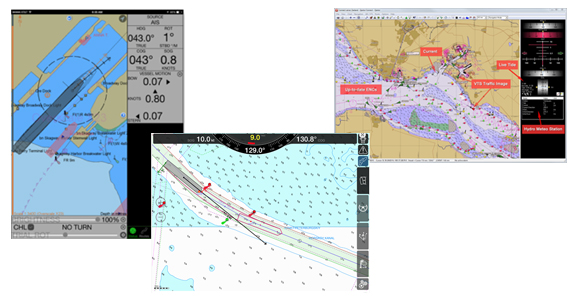 What are the best piloting software tools to use in conjunction with a high precision PPU
Four piloting softwares to use with a PPU sensor
When it comes to software for maritime pilots, there are numerous companies worldwide who have developed very useful applications. Some come in a bundle with the purchase of navigation sensors hardware; clearly a few PPU vendors have either developed their own software, or are in a strategic partnership with software developer companies who provide exclusive solutions. These will not be covered in this article because they are not considered as software companies, but rather as hardware companies. Other suites are open for use as a software licence and work well in conjunction with all modern PPU sensors.
If we restrict the list of available solutions to piloting software made for very demanding situations, four companies are leading the innovation wave. Let us look into these in alphabetical order:
QPS – Qastor
QPS is a leading software company with a rather large development team who is well acquainted to undertake diverse challenges around solutions for navigation, hydrography, ENC production, geo-spatial processing, real-time processing, 2D-3D- 4D visualization, data integration, etc. The company is part of SAAB (Marine Traffic Management) group, which is well exposed to a multitude of use cases related to the marine environment. Worldwide use of their software and large client base allows them to continuously grow their domain knowledge and gather extensive feedback. This ultimately reflects in high quality products with good standard in terms of support. Their strong development methodology allows them to swiftly adapt to new requirements. In fact, they can offer ad-hoc programs to provide custom-made modules or computations fit for a specific purpose. For example, they can integrate specific hydrological factors, which are very particular in a harbour and apply unique rules to create algorithms that implement distinctive navigation prediction techniques.
The Qastor product is primarily designed as an ECS for piloting operations. The software provides features such as guard zone, overview, path prediction, CPA and meeting points. It also proved to be a useful navigation tool in several other fields including ship trials, oil rig positioning, inland river barges, SPM approaches, ferry operations, oil and gas tanker approaches and docking, patrol vessels and tugboat operations.  QPS developed some specific modules that can be purchased separately pending on your needs. An example is the Docking and Lock approach module, which is used during mission critical mooring and approach operations. Amongst other things, this module, coupled with a high precision PPU provides effective algorithms for real-time calculation of COG, SOG, ROT to accurately establish and predict bow and stern movements.
The Connect client/server integrated data system may be used in conjunction with Qastor to exchange chart updates, meteo live data and GRIB support (weather prediction along the route), tide, customizable alarms and SMS notifications. It is not just mariners on ships using Qastor, a number of harbour masters and most recently fleet operation managers use Qastor and the Connect Server for round the clock monitoring and automated alerting
SEAiq Pilot
SEAiq Pilot is the only multi-platform piloting solution, with support for all major operating systems, all pilot plugs and PPU devices. It combines a complete set of piloting features with unparalleled ease of use.  The company offers a product which is very focused around the needs of maritime pilots and offers a comprehensive set of hundreds of navigation features: record/playback, CPA, BCD, Meeting Point, overlays, tides, internet AIS, chart markup, overlays, and many more.
Besides the fact that it supports all tablet/laptop platforms (iPad/iPhone, Windows, MacOS, Android), SEAiq works very closely with all PPU and Pilot plug vendors to assure compatibility. Pilots are offered a wide choice of features which are fully configurable through a central web console. This allows to personalize the user interface, select the relevant features, edit user menus, lock settings, set common routes and chart mark-up. It can automatically download charts from PRIMAR, ChartWorld, and NOAA. It supports charts in all standard formats: S-57, S-63, iENC, BSB/KAP.
The company´s vertical focus in this field has allowed to propose a very flexible product which is fully customizable at unbeatable price. Consider that the enterprise monthly subscription for one pilot goes at USD 30 with no up-front license fee.  Combine all of this and you can easily understand why SEAiq Pilot is used by 25-33% of pilots world-wide. Customers include: Miami, London, Singapore. The company is not large but is indeed a leader in this field. It is in partnership with the Maritime Simulation and Resource Centre (MSRC) and the Maritime Pilots Institute (MPI) where training in SEAiq Pilot is offered.
SevenCs – ORCA Pilot G2
SevenCs IS A Maritime Software House that has been working with Pilots and developing Pilot software for 25 years. Alongside our extensive experience in the Pilot field, we also offer packages combined with bespoke chart production, software customization, and support.  The current PPU software is:
This modern navigation software, specially developed for pilots, with pilots, it optimised for touchscreen operation, can be integrated with any high-precision navigation sensor or any pilot plug and it can make use of AIS data via 3G/4G. It currently runs only on Windows OS, but 2019 sees the launch of the IOS version OPX.
ORCA Pilot G2 is available as professional standalone navigation software that can be integrated with additional services to improve the safety and efficiency of your pilot organisation.
Orca Pilot G2 highlights are:
A docking mode providing automatic minimum distance calculation towards selected chart objects, berthed or slowly-moving AIS targets, ship motion predictions with adjustable time.
It provides rather sophisticated and quick chart handling features including automated distribution within a pilot organisation. It supports ENC, bENC, Inland ENC.
Trip data logging for playback analysis including the AIS targets (range of 10 nm distance to the own ship)
Online water level correction (requires a web feature service providing the real time data)
Display of AIS targets (and the possibility to select AIS targe
ts as an own ship to get full overview and virtually board the target)
Advanced route planning in graphical and tabular form
Advanced docking mode facilities including Predictor, Simulator, and Distance measuring operator
Anti-grounding functionality and advanced pre-warning system
CPA calculation (open sea calculation), ERP (Estimated Rendezvous Position) calculation for river navigation along the planned route
Navigational functions for distance / bearing calculations
True scale and fixed size own ship symbol
North-Up and Head-Up mode
Display adjustable to various day/night light conditions
Detailed query of chart object features (Pick Report)
Split screen for docking and manoeuvring
Transas – Pilot PRO
Transas offers best-in-class navigation systems and integrated bridge solutions, recognized training and simulation solutions, well-known VTMS and coastal surveillance systems, shipping company and port management systems, onboard and individual decision support systems for professional crew and pilots.
The leading market positions and their achievements in the sphere of research and development have allowed them to launch, amongst other things, a solution called Pilot PRO which is used by a lot of pilots worldwide. We cannot tell you how many, but rest assured that if you stick around a pilot while on duty, chances are they are using something made by Transas.
Transas experience and good reputation is a guarantee for pilots. Besides, several pilots love Pilot PRO because it is very simple to configure, it is intuitive and it is reliable.
Transas Pilot PRO is the best-in-class iPad-based chart plotter for professional pilots and it comes at a very affordable price. In addition to monthly updated TX-97 format marine vector charts, Pilot PRO features a number of functions requested by pilots specifically to improve their daily efficiency: Docking Mode, Ship Maneuvering Predictor, operation with AIS Class A transponder and independent third party pilot sensors over Wi-Fi, Weather Service, Internet AIS targets, Tide and Currents, AIS Meeting Points, Advanced Data Logging, Playback and many more.
At the core of all Transas products and solutions lie innovative technologies which are based on extensive experience in IT. Although Transas core business is not to solely make navigation software, the company has made an excellent solution fit for use with high precision PPU. Their reasoning goes behind the need to provide standard piloting tools. In fact, the Pilot PRO offers several e-Navigation functions, such as multi-connection to different data sources, secured AIS data feed from Transas VTS and AIS meteo data from local onshore sensors. This turns the Pilot PRO into an important link of the composite infrastructure of pilot, vessel, shore, shipping company, training centre, with a range of integration possibilities between its components which Transas clearly masters.